W Muzeum Literatury od niedawna możemy zwiedzać wystawę Moje noce, moje dni, poświęconą Marii Dąbrowskiej. Być może zachętą do obejrzenia ekspozycji stanie się niewielka "ściągawka", objaśniająca, kim byli bohaterowie najpopularniejszej powieści Dąbrowskiej i jak wyglądali. Wszystkie zaprezentowane poniżej fotografie pochodzą z archiwum zakupionego przez Muzeum Literatury od spadkobierców pisarki.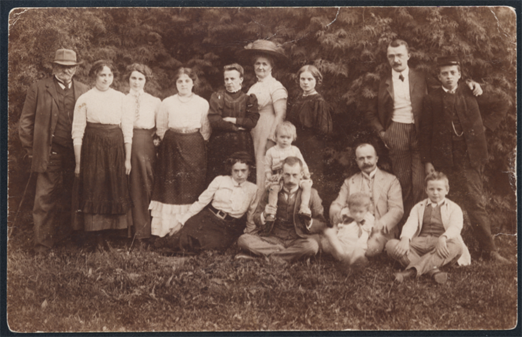 Maria Dąbrowska (stoi 3. od prawej) z rodzicami, rodzeństwem i dalszymi krewnymi. Większość z tych osób została "sportretowana" w Nocach i dniach. Fot. nieznany, Poklęków, lipiec 1910. Działkę w Poklękowie nabył Józef Szumski w roku 1908 i mieszkał tam z rodziną do 1911. W powieści majątek w Poklękowie nazwany został Pamiętowem.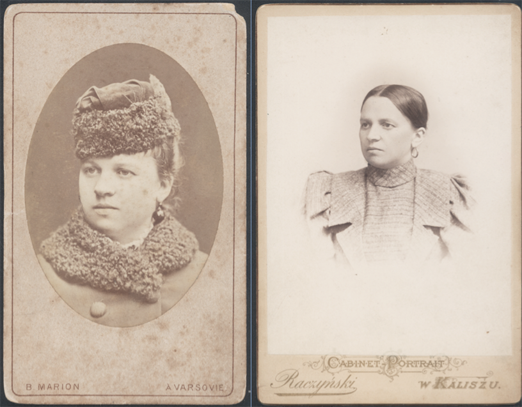 Ludomira Szumska z Gałczyńskich (1856-1927) – matka Marii Dąbrowskiej, pierwowzór Barbary Niechcicowej z Nocy i dni. Z lewej jako panna, sfotografowana w Warszawie przez Bronisława Mariona ok. 1880 r., z prawej już jako Józefowa Szumska (ślub w 1884 r.) w Kaliszu (powieściowy Kaliniec) ok. 1900 r., fot. M. Raczyński. 25 maja 1918 r. Maria Dąbrowska zanotowała w Dzienniku: "Marysia dała mi do przeczytania listy z młodości Mamusi, pisane w latach 1881-84 do jej matki, a mamusinej siostry, Julii z Gałczyńskich Leszczyńskiej. Boże, gdzie się podziała ta moc poezji, to odnajdywanie piękna wszędzie i we wszystkim, to patrzenie na życie pod kątem kpin, wesołości i entuzjazmu. Jakim zachwycającym stworzeniem była moja Matka. Czytałam te listy, płacząc".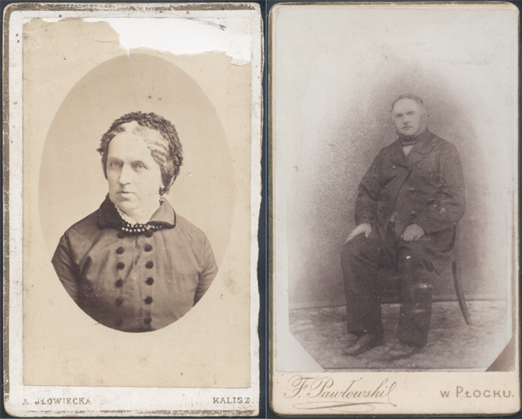 Z lewej Józefa z Majewskich Gałczyńska (1828-1900) – babka po kądzieli Marii Dąbrowskiej, pierwowzór Jadwigi Ostrzeńskiej, matki pani Barbary, fot. A. Iłowiecka, Kalisz ok. 1890 r. Z prawej Teofil Szumski, dziad po mieczu Marii Dąbrowskiej – Michał Niechcic, ojciec Bogumiła, fot. F. Pawłowski, Płock ok. 1880-90 r. wg fotografii z ok. 1850-60 r.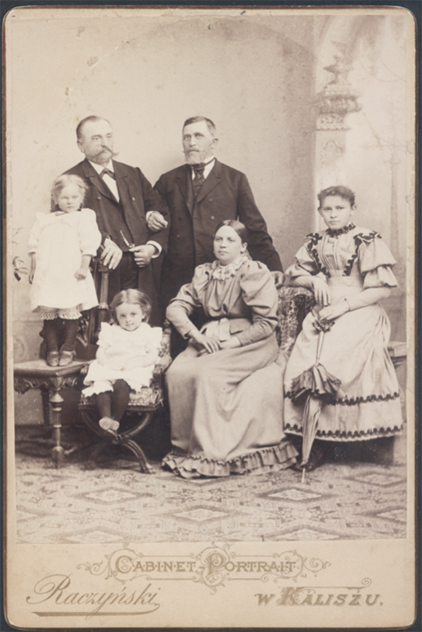 Rodzina Szumskich, fot. M. Raczyński, Kalisz ok. 1894 r. Od lewej siedzą: Helena Szumska, późniejsza Hepke (1891-1969) – młodsza siostra Marii, Ludomira Szumska, Maria Leszczyńska, późniejsza Jełowicka (zm. 1936?) – cioteczna siostra pisarki; stoją: Maria, późniejsza Dąbrowska (1899-1965), Józef Szumski (1844-1912) – jej ojciec, Ludwik Sułkowski – krewny Szumskich, zesłaniec po powstaniu styczniowym.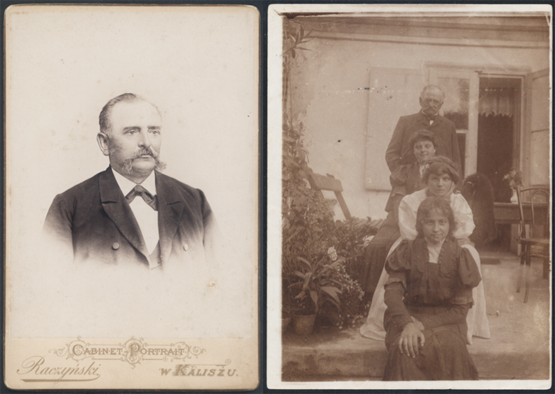 Józef Szumski – pierwowzór Bogumiła Niechcica, w młodości uczestnik powstania styczniowego. Tak o tym wspomina jego córka w swoim Dzienniku 22 stycznia 1929 r.: "Dziś, kiedy wychodziłam i owionął mnie mróz, myślałam, że w taki wieczór mój ojciec, siedemnastoletni chłopiec, wychodził z domu do lasu". Na fotografii M. Raczyńskiego widzimy go w Kaliszu w 1900 r., z prawej w Poklękowie z córkami w 1910 r., fot. nieznany. Na pierwszym planie Jadwiga (1894-1944), która zginęła później w powstaniu warszawskim, za nią Helena i Maria.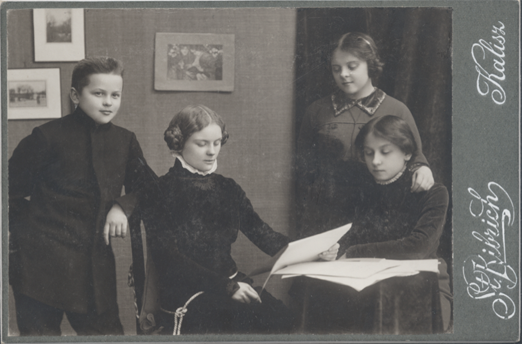 Dzieci Ludomiry i Józefa Szumskich – młodzi "Niechcicowie". Od lewej: Bogumił Szumski (1896-1957), Maria, Helena i Jadwiga. Fot. Stanisław Bibrich, Kalisz ok. 1906 r.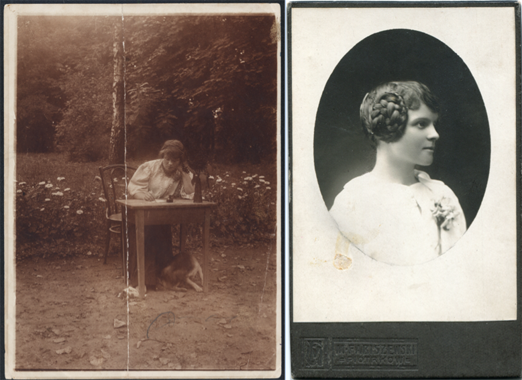 Maria z Szumskich Dąbrowska (Agnieszka Niechcicówna) w Russowie – majątku administrowanym przez jej ojca od 1889 r., miejscu urodzenia pisarki, opisanym w Nocach i dniach jako Serbinów, fot. nieznany, 1908 r. Z prawej 3 lata po ślubie, fot. M. Fabiszewski, Piotrków 1914 r.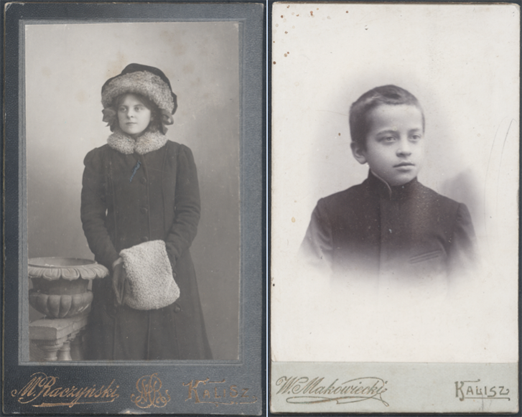 Rodzeństwo Marii. Z lewej Helena – Emilka Niechcicówna z Nocy i dni, fot. M. Raczyński, Kalisz 1912 r., z prawej Stanisław (1895-1943) – pierwowzór Tomaszka Niechcica, fot. W. Makowiecki, Kalisz 1907 r.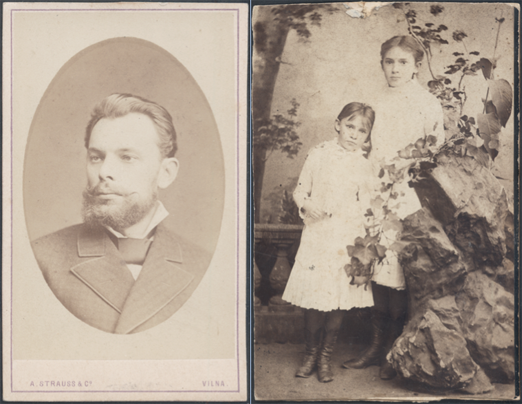 Z lewej Władysław Leszczyński, mąż Julii z Gałczyńskich, wuj pisarki – powieściowy mąż Teresy Ostrzeńskiej, Lucjan Kociełł, fot. Aleksander Strauss, Wilno ok. 1880-85 r. Z prawej jego córki: Estella z Leszczyńskich Dziewulska i Maria z Leszczyńskich Jełowicka (Oktawia i Sabina Kociełłówny), fot. nieznany ok. 1880-90 r.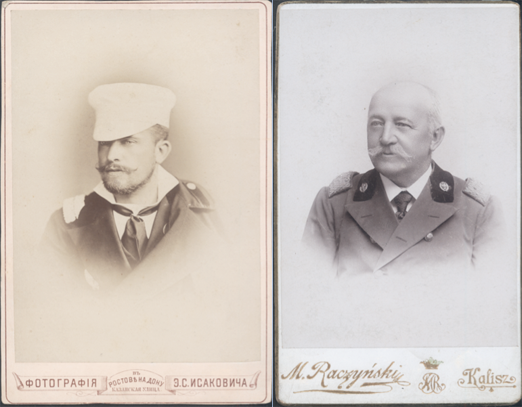 Wujowie Marii Dąbrowskiej (bracia Ludomiry Szumskiej) – w Nocach i dniach bracia pani Barbary. Z lewej Włodzimierz Gałczyński, w powieści Julian Ostrzeński, fot. Emanuel Isakowicz, Rostów n. Donem ok. 1885 r. Z prawej Bronisław (1846-1918) – pierwowzór Daniela Ostrzeńskiego, fot. M. Raczyński, Kalisz ok. 1905 r.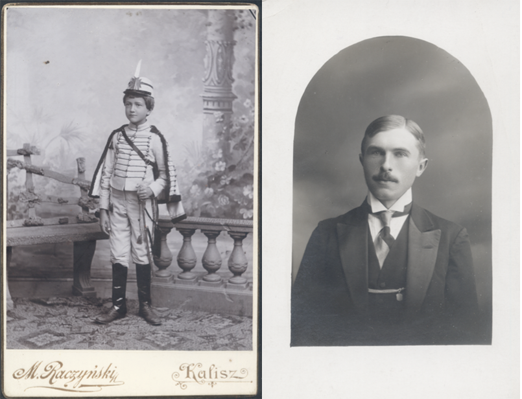 Daniel Ostrzeński miał trzech synów, z których najukochańszym był Bodzio. Jego pierwowzorem był Tadeusz Gałczyński (1889-?), wujeczny brat pisarki, syn Marii i Bronisława, fot. M. Raczyński, Kalisz ok. 1900 r. Obok Stanisław Hepke (1889-1964), szwagier pisarki, powieściowy Seweryn Bartołd – mąż Emilki, fot. nieznany ok. 1920 r. U Stanisława i Heleny Hepków bywała Dąbrowska bardzo często. W uzupełnieniach do Dzienników z lat 1926-1928 znajdujemy m.in. takie wspomnienie z Płonnego: "Hela, która ma ogromny dar obserwacyjny i świetnie opowiada, wtajemniczała mnie […] w historię każdej niemal rodziny, czy to z czworaków, czy ze wsi włościańskiej, gdyż z tzw. ludźmi Stachowie byli zawsze blisko i dobrze, a Hela znała ich losy aż do najpoufniejszych szczegółów. Były to wszystko rzeczy tak pasjonujące i wzruszające, że czasami brała mnie pokusa, żeby kupić sobie w Płonnym grunt, zostać tam na resztę życia i ograniczyć się do snucia stamtąd tylko wątków mej pracy twórczej. […] Skończyło się jednak tylko na tym, że niektóre motywy płonneńskie weszły ubocznie do Nocy i dni oraz do noweli Ksiądz Filip".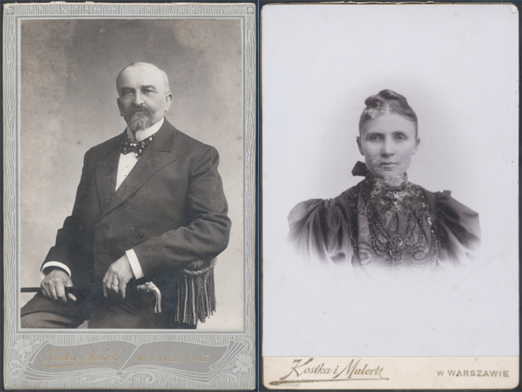 Stryj Dąbrowskiej, Franciszek Szumski (1845-1927), który stał się wzorem postaci Hipolita Niechcica, kuzyna Bogumiła. Obok jego żona, Florentyna (zm. 1932) – Urszula Niechcicowa, fot. Kostka i Mulert, Warszawa 1872-90 r.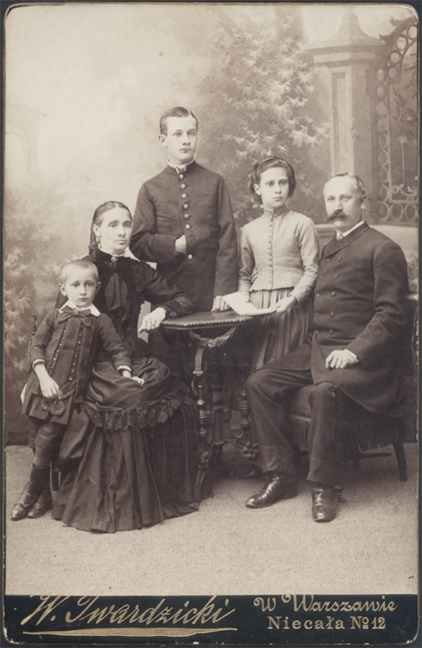 Józefa z Ciechowiczów i Stanisław Rzymowscy (Zenobia i Jan Ładowie) z dziećmi: Wincentym, Janem i Kazimierą, fot. Walerian Twardzicki, Warszawa 1888 r. W uzupełnieniach do Dzienników z lat 1917-1918 o Stanisławie Rzymowskim, a także – być może – o powyższej fotografii tak pisze Dąbrowska: "drobny ziemianin z okolic Mławy, był z moim Ojcem w powstaniu 63-go roku, a [jego żona] była cioteczno-cioteczną krewną i przyjaciółką młodości mojej Matki. Już jednak moi rodzice […] stracili łączność z ta rodziną, a ja znałam ją tylko z opowiadań i ze starej fotografii, na której pokazywano nam dzieci owych Rzymowskich: Janka, Wicusia i Kazię".
Z lewej Antoni Gałczyński, krewny Ludomiry Szumskiej (radca Joachim Ostrzeński), fot. Stanisław Zewald, Kalisz ok. 1880-90. Z prawej Maria Szumska (1880-1951), matka aktorki Elżbiety Barszczewskiej, stryjeczna siostra Marii Dąbrowskiej (Anka Niechcicówna), fot. Stanisław Bogacki, Warszawa ok. 1905 r. 22 maja 1918 r. Dąbrowska zanotowała w Dzienniku takie oto wspomnienie o niej: "Pamiętam jak w dzieciństwie nasza duża Mania […] biegła z nami na łąki i tam wyśpiewywaliśmy w niebogłosy: Bo miłość to cygańskie dziecię, ani jej ufaj, ani wierz. I było to jak zuchwałe, czarowne wyzwanie życia".
Z lewej kaliski adwokat Emilian Drecki (Józef Toliboski, pierwsza miłość Barbary, o której nie mogła zapomnieć do końca życia), fot. Jan Mieczkowski, Warszawa 1877 r. Z prawej Jan Czop (zm. 1939) – właściciel sanatorium w Jaworzu, z którym Maria Dąbrowska blisko się zaprzyjaźniła podczas odbywanych tam kuracji w latach 1927-33, pierwowzór Tadeusza Krępskiego, syna dziedziców Krępy, kochanka Tereni Kociełłowej, fot. amatorska z 1929 r.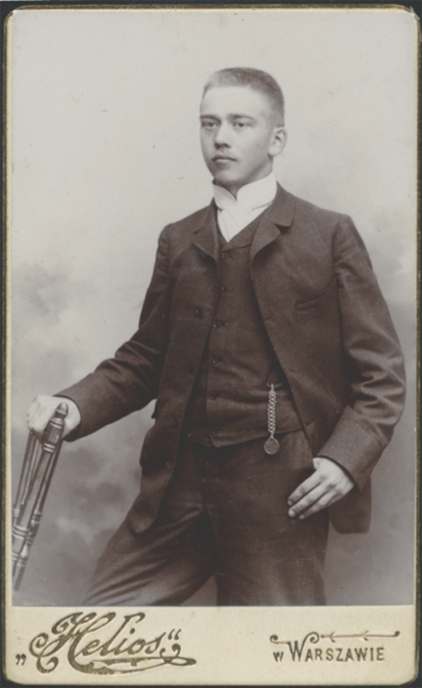 Na zakończenie Marian Dąbrowski (1882-1925) – od 1911 r. mąż Marii z Szumskich. W Nocach i dniach jego cechy nosi Marcin Śniadowski, mąż Agnieszki Niechcicówny. Fot. "Helios", Warszawa 1900-04 r. 15 września 1915 r. Dąbrowska napisała w Dzienniku: "Z górą dwa miesiące temu Marjana wyprawiałam na front, a dziś Bogusia. […] Każdy mijający kawałek mojego życia sielanką mi się zdaje wobec tego, który nadchodzi. […] Wszyscy moi trzej chłopcy na wojnie: Marjan, Boguś i Staś. Smutek za siebie nie ogarnia mnie już nigdy, ogarnia mnie jeszcze smutek za bliskich, którzy są tacy słabi, żałośni, pełni łez w oczach. Nie ogarnia mnie już nigdy za Marjana, bo ja w każdym wypadku widzę, jak on daje sobie radę, jak się jego twórczość ciągle naprzód wysila".
…
Dziękuję kustosz Katarzynie Jakimiak, autorce wystawy Moje noce, moje dni, za pomoc w przygotowaniu niniejszego tekstu.